Bin Rental Services in Edmonton
With time junk and waste get accumulated at both home and workplace that should be removed to maintain the hygiene and cleanliness of the place. Nobody likes to live or work in an area that is covered with dirt and waste that will for sure make them sick. Thus if you are planning to undergo a major cleanliness overhaul to de-clutter your home or workplace, then ALL DISPOSAL can be the best waste removal partner that offers garbage bin rental services in and around Edmonton.
The first vital step of a cleanliness program is to hire the best garbage bin rental service that will allow you to get rid of accumulated waste and debris in a safe and hassle-free manner. ALL DISPOSAL is a reckoned name in the waste removal field that handles both domestic and industrial waste removal tasks with the same professionalism and expertise.
Why is Garbage Bin Rental Service Popular in Edmonton?
Garbage bin rental services are popular in Edmonton because getting rid of a large amount of waste, especially from construction or renovation sites or heavy furniture from home is not at all easy. Thus, you need to seek help from a professional company that holds expertise and experience in waste collecting and waste management. We, at ALL DISPOSAL, offer garbage bins in different sizes such as 12, 15, 18, 20, and 25 Yard to collect a small amount of waste from homes or a large amount of trash and debris from construction sites.
We have bins of different sizes for you, no matter whether you are looking to renovate your home or clean your worksite, we will provide you with the bin as per your requirements. Bin rental service has also become a preferred option for many because you have the flexibility to choose a bin exactly as per your requirements.
You can opt for commercial bin rentals for eliminating construction site wastes like plywood, concrete, siding, and screws, as these can be safely and effectively disposed of in the heavy-duty bins.
Benefits of Garbage Bin Rental in Edmonton
For construction, renovation, or decluttering project, bin rental services in Edmonton is an ideal way to get rid of your junk and waste. With a rental garbage bin provided, you will have a place to dump all of your junk without worrying about hauling it away. Some of the benefits of garbage bin rental service in Edmonton are discussed below:
Make your space clean and clutter-free: Disposing of a huge amount of waste on a construction site can be overwhelming but with a bin rental service you can easily dispose of all the debris like old flooring, shingles, and drywall into the bin and keep your space clean, safe, and clutter-free.
Prevent unfortunate accidents and injuries: Availing bin rental service in Edmonton from a reliable company like us reduce the chance of any unfortunate accidents, injuries, and litigations at the worksite. All the garbage and waste will be safely accumulated in the bin so the place will be clean and clear for performing tasks with ease.
Let Professionals Manage your waste: You can surely collect and dispose of your waste or junk yourself but it will cost you time and money because you will first need to rent a trailer, drive to the dump, wait in a queue, then pay the disposal fee. Therefore instead of wasting so much time and money you should hire our proficient bin rental service in Edmonton. We will provide you with a bin of the size of your choice in which you can dump all the waste and then we will take away the bin and safely dispose of all the waste without causing any harm to humans and the environment.
Easily Declutter your Home: With the bin rental service in Edmonton, the bin is dropped at your place for a specific time. The bin is kept right at your place for you to dump every waste or trash that is not just required or has no use. You no more have to plan time-consuming dump visits, and you can easily declutter your home or workplace without having to move out from your place.
Garbage Bin Rental is Cost-efficient in Edmonton: The cost of garbage bin rental is economical and cost-effective which makes it easy to budget. The cost of the bin rental includes the garbage bin, waste pick-up, and disposal of waste. If you dispose of your waste yourself then you have to bear many costs like trailer rental, disposal fees, and also your time.
The Merits of Availing Garbage Bin Rental in Edmonton
Due to its multifarious use and application garbage bin rental is gaining popularity among domestic, commercial, and industrial clients. Right from decluttering their home and workplace to safely disposing of useless items, bin rental company ALL DISPOSAL is great, as they visit your home or office, let you fill the garbage bin, and then haul the bin away. In addition to this, garbage bins also come handy for a variety of purposes such as:
Safely dispose of construction waste: Our garbage bin can be rented to safely dispose of the waste generated after construction, home renovation, or remodeling. You can also use the garbage bin to store any kind of waste that comes up before the scheduled disposal dates. This will keep your place clean and organized and prevent debris from building up.
Storage: Garbage bins can also be used for storage when these bins are not being used for waste disposal. The garbage bins are big enough to store any items, ranging from furniture to books and construction supplies. You just need to choose a bin that fulfils your storage needs.
Get Rid of Party Trash: When you are hosting a reunion or a bachelor party, or any other large gathering, a garbage bin can help you get rid of the trash like used plates, napkins, and glasses that can be easily thrown in the garbage bin. It will prove a cost-effective way of managing the party trash that will allow you to enjoy your event.
Cleaning or decluttering house: If you have accumulated several useless items that are of no use to you and you have been waiting to get rid of such stuff, then you can utilize your garbage bin to sort through your items and decide on the items that should be discarded. This way you can easily get rid of unwanted stuff from your home and make your home clean.
Why choose All Disposal for Garbage Bin Rental Edmonton?
ALL DISPOSAL is a reliable and trusted name in the waste removal field that allows you to rent a garbage bin easily and efficiently to safely dispose of your junk and waste. Some of the reasons that have made us a preferred choice of many domestic and commercial clients are:
Our garbage bins are ideal for household and worksite junk and debris
Garbage bins available in different sizes
Saves you time and cost
Garbage bin rental is cost-efficient
Hassle-free disposal of waste and junk
Dispose of waste as per the current laws and regulations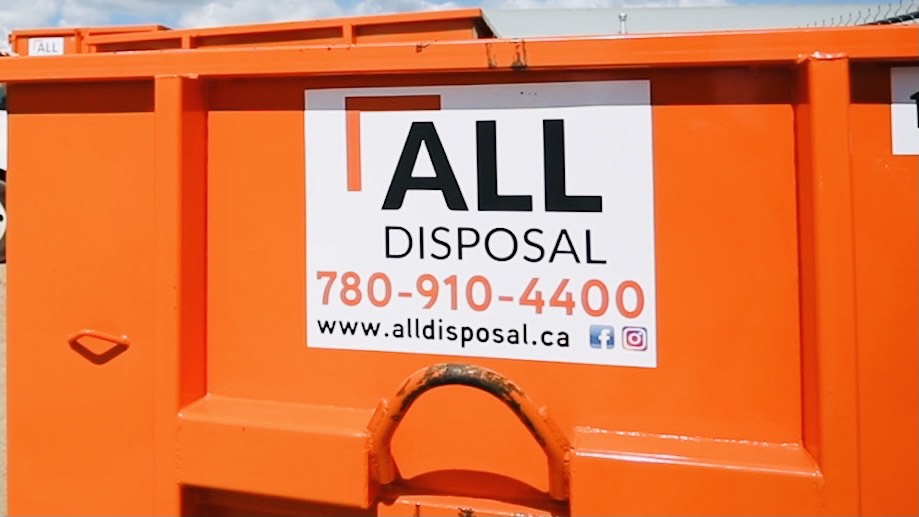 ALL DISPOSAL specializes in residential COMMERSIAL Waste Disposal SERVICE
Request a Bin Rental Quote
---
• EDMONTON DUMPSTER RENTALin Edmonton , Abbottsfield, Alberta Avenue, Argyl, Aspen Gardens, Athlone, Avonmore, Balwin, Bellevue, Belvedere, Bonnie Doon, Calder, Calgary Trail North, Calgary Trail South, Capilano, Crestwood, Cromdale, Delton, Delwood, Dovercourt, Duggan, Eastwood, Northlands, Elmwood Park, Empire Park, Forest Heights, Fulton Place, Glengarry, Glenora, Gold Bar, Grandview Heights, Greenfield, Grovenor, Highlands, Holyrood, Edmonton, Kenilworth, Kensington, Killarney, King Edward Park, Lansdowne, Lauderdale, Laurier Heights, Lendrum Place, Malmo Plains, McQueen, Montrose, Newton, North Glenora, Ottewell, Parkdale, Parkview, Pleasantview, Prince Charles, Prince Rupert, Quesnell Heights, Rideau Park, Rosslyn, Royal Gardens, Rundle Heights, Sherbrooke, Spruce Avenue, Strathcona, Strathearn, Terrace Heights, University of Alberta Farm, Virginia Park, Wellington, Westbrook Estates, Westmount, Westwood, Woodcroft